Dynamic Prep covers all aspects of food preparation from simple slicing, chopping, dicing or grating raw fruits and vegetables to mixing ingredients or dough's, peeling vegetables to blending and blitzing or even blixing, Liquidizing and juicing to sieving.
Whether you are a small bar or restaurant to a large school, hospital or outside caterer there are a multitude of machines to make you food preparation much easier and more efficient! Kent Catering and it manufacturing suppliers can suggest and often demonstrate the right piece of equipment for you!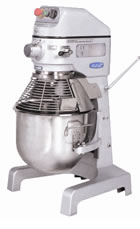 From small table top 5ltr bowl units to large, freestanding 80ltr mixers for the professional bakery, with optional drive hubs to convert the machine into a processor, KCS can supply the right size and duty, choosing from suppliers like ChefQuip, Sammic, Electrolux Dito, and Hobart, there will be the right mixer for your operation!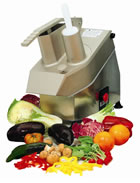 Processors, Cutters, Slicers, Blenders and Veg' Prep' Machines:
By changing the various blade options, almost any kind of prepared food can be produced by these labour saving devices.
From simple stick blenders of varying shaft lengths and powers to dedicated preparation machines, which can slice, grate, julienne, chip or dice to a large number of dimensions, by changing the many optional blades, to multi use items, which can blitz and process, or grate, julienne and slice. There will be either a single piece of equipment or for larger operations, maybe a combination of machines to suit your requirements from suppliers like Robot Coupe, Sammic, Electrolux Dito and ChefQuip.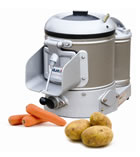 Peelers have not changed much over the years, but they have become more efficient with the introduction of better abrasive materials and more powerful motors, so whatever your peeling requirement, Kent Catering can suggest the best option for you from suppliers like IMC, Sammic and Electrolux Dito.
Established Over 20 Years

Full Service Solution

Total Turn-Key Sales Solution

Fully Qualified Engineers

Regulatory Compliance

Reduced Energy Consumption

Free Consultation

Impartial Advice

Guaranteed Peace of mind