A Full Range of Cooking Equipment
Kent Catering Services (KCS) can supply a full range of cooking equipment from a simple Microwave to a combination oven, or a light duty back bar cafe suite, to a full bespoke one piece top range and fully install it to all current standards. We can perform a site survey and suggest specifications covering performance, energy consumption or even new ways of cooking to give your customers the best food possible. KCS have been a Rational Sales and Service partner for 20 years.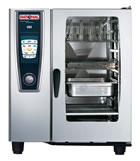 Combi Ovens have become the mainstay of any quality kitchen and can produce the highest quality food from a single unit! With the ability to steam, convection roast, or a combination of the two almost any food can be cooked to your requirements. As Rational main service and install agents in the South East, we specialise in new Rational Self Cooking Centre (SCC) WhiteEfficiency units, but can supply units from Convotherm, Electrolux and Blue Seal.
Click for more information: SCC61 Gas, SCC61 Electric, SCC101 Gas, SCC101 Electric, SCC201 Gas, SCC201 Electric and SCC202 Gas, SCC202 Electric.

Lincat, Falcon, Morwood Vulcan and Electrolux Modular repairs and sales
Whether you're looking for a one off piece of kit, or a complete cook line, we can supply a number of modular ranges to suite your requirements and budget. With light and medium duty ranges of equipment from the likes of Lincat, Falcon, Morwood Vulcan and Electrolux, to the medium to heavy duty ranges from Blue Seal, Garland, Baron and Electrolux to name but a few; KCS can find the right piece of equipment for you!
Heavy Duty and Bespoke Cooking Ranges

Our sales consultant, with input from your staff, can suggest and design a layout for bespoke, single piece top ranges for the prestige kitchen whether it's on show or back of house! Or using the same components, design a high end modular range giving you all the flexibility that comes from the separate pieces, but with the duty and appearance of a bespoke suite. Manufacturers such as Charvet, Therma, Molteni and ELRO can all build ranges which can be fitted either by their factory team, or by our fully qualified engineers.
Free Standing Catering Equipment

Free Standing Equipment sales and repairs. From Fryer Ranges, to Bratt Pans and boiling pans, heavy duty free standing equipment can save time and energy in today's busy kitchen, and with new technologies coming onto the market, these products are fast becoming excellent investments for your business. Large scale and intelligent cooking make these units much more versatile for cooking a greater range of products than ever before. Manufactures like Valentine, ELRO, Charvet, Therma and Frima's Variable Cooking Centre offer an excellent range to suit your business.
Other Bespoke Catering Equipment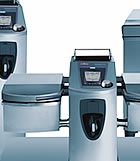 In addition to your main cook line, other cooking equipment can complement your offering and can include, charcoal grills, gas or wood fired pizza ovens, theatre style cooking, bakery ovens, Panini Grills etc. If you have a concept in mind, we can find the right piece of equipment for your requirements!
To discuss Cooking Equipment Sales,  Installation and Servicing …
Call: 020 8462 9911
Email: info@kentcatering.com