From an under-counter bottle cooler, to a full suite of cold rooms, KCS can supply a replacement unit like for like or offer a whole new way of using refrigeration more effectively in your kitchen. We can supply ice makers, counter fridges, under-counter fridges, high end drawer systems, blast chillers and freezers, chest freezers, slimline and full-sized uprights and bespoke and standard sized cold rooms to suit every requirement from size of unit, budget or usage.
KCS also offer True Products in addition to the wide range of refrigeration products below. 
Blast Chillers / Freezers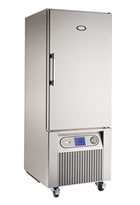 Blast Chillers and freezers also come in a range of sizes and capacities, dictated by European legislation that food should not be left in the bacterial "danger zone" for longer than necessary and require that the temperature is reduced in from +70ºC – +3ºC in less than 90 minutes and for blast freezing from +70ºC – -18ºC in less than 240 Minutes. KCS can work with you to establish the volume and weight of the items you would need to blast chill and suggest a suitably sized machine to cope with that demand. Manufacturers such as Precision, Williams, Fosters, Electrolux and Adande; there will be a unit to suit you!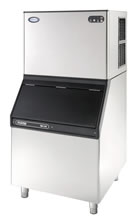 Ice Makers vary massively from size, shape and clarity of the ice formed to the quantity per day produced and stored. KCS can specify one of a number manufacturers machines from Maidaid Halcyon, Hoshizaki, Foster Refrigeration, and Electrolux between which almost every requirement is covered.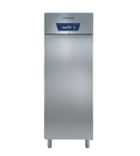 From a single door under-counter fridge, to double door upright freezer, via 2, 3 or 4 door counter units or high end, bulk storage, drawer systems there are a huge range of sizes, storage capacities and styles to suit your kitchen space and requirement. With manufacturers like Adande Refrigeration, Precision Refrigeration, Foster Refrigeration, Williams Refrigeration, GRAM and LEC, and many others there is something for everyone!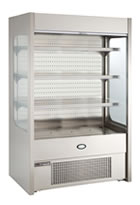 Whether you are after a bespoke servery counter (see our fabrication section) or a free standing deli or retail unit, KCS has a large range of options to suit your needs. Working with our suppliers, Kent Catering can supply and fit replacement or new drop in units from the likes of CED Fabrications or Counterline to freestanding equipment from AHT Cooling, Pentland Wholesale and Electrolux or offer a completely bespoke unit from Butchers counters, fish displays or multi tier display cabinets.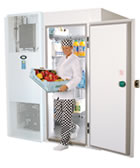 Whether you are after a bespoke, large scale, multi room, multi temperature suite of rooms, or just a modular cold room to increase you refrigerated storage capacity Kent Catering can supply, erect and commission the right room, with the right services for your catering operation. KCS can design bespoke or supply standard sized suites or rooms to be positioned either inside or weatherproofed to be safe outside in the elements, with either integral or remotely positioned compressors fitted into acoustic housings to reduce noise, with computer controlled HACCP systems or simple high temperature alarms we have the right specification for you! Consort Environmental, Storers, or Fosters and Williams Refrigeration are our main suppliers.
Established Over 20 Years

Full Service Solution

Total Turn-Key Sales Solution

Fully Qualified Engineers

Regulatory Compliance

Reduced Energy Consumption

Free Consultation

Impartial Advice

Guaranteed Peace of mind